HTC Flyer: The Andriod Tablet I've Been Waiting For?
---
"BARCELONA, SPAIN - Mobile World Congress - February 15, 2011 - HTC, a global leader in mobile innovation and design, today announced its first tablet, the HTC FlyerTM. HTC Flyer blends HTC's trademark design language with an all-new HTC Sense user experience that has been reimagined for the tablets. Using an intuitive and innovative approach to tablets, HTC Flyer combines natural touch and pen interaction. HTC also announced HTC Watch, a new connected video service that will debut on HTC Flyer tablet, and will collaborate with OnLive, Inc. to launch the first cloud-based mobile gaming service on a tablet."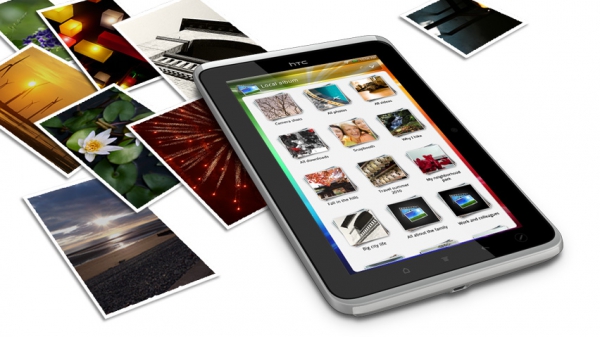 I've been watching the Android tablet market carefully, looking at every new tablet coming out, and have been pretty underwhelmed by many of them. Some of them, like the Motorola Xoom, have impressive hardware - yet the software leaves much to be desired. I'm not an expert on Android so it's hard for me to say what's stock Android and what's not, but much of what I've seen is summed up by the word "Meh". It just doesn't seem to have much style.
The HTC Flyer, however, has caught my attention in a big way: as an HD2 owner (the phone is now retired) I'm very familiar with HTC Sense and the overall design language and functionality of their software has impressed me for the most part. Sure, some of it is silly fluff that does nothing but use CPU cycles and battery life, but I for one like a good UI as long as it doesn't feel slow. With a 1.5 Ghz single-core CPU, the HTC Flyer should be anything but slow. The 7 inch capacitive screen offers a 1024 x 600 resolution, and is pressure sensitive, which allows HTC to bring something interesting to the table that I haven't seen elsewhere yet on an Android tablet: a stylus. Engadget has more details on that, but suffice it to say that I think it brings a unique advantage to the table. It also synchronizes with Evernote right out of the box, which is killer if you're an Evernote user.
Rounding out the hardware spec is HSPA+ wireless (I have to assume WiFi is in there as well), 1 GB of RAM, 32 GB of storage (with expansion via microSD), a 5 megapixel rear camera, and a 1.3 megapixel front camera. It's said to weigh "as little as a paperback book", and the 4000 mAH battery will allow for up to four hours of video playback. Four hours doesn't sound very impressive to me - Engadget says the Samsung Galaxy Tab does just over six hours of video playback with the same sized 4000 mAH battery.
No word on pricing, but it will be available globally in Q2 2011 - I suspect that means there won't be a WiFi-only version initially, and it will be sold via carrier partners with data contracts. What that probably means is that it won't be able to compete with the WiFi only $499 iPad - which is a real lost opportunity in my opinion.
Oh, did I mention it can't make calls either? For some that may be a deal-breaker, though I personally don't think it would matter to me - that's what I have a cell phone for, and it's not like I'd leave the house with my HTC Flyer and not my cell phone. Frankly, I think a bigger problem is where do you put that stylus when you're not using it? It looks too big to be stored inside the device - and if it's not kept inside the device, it's something that might get lost easily.
The remainder of the press release, along with more images, after the break.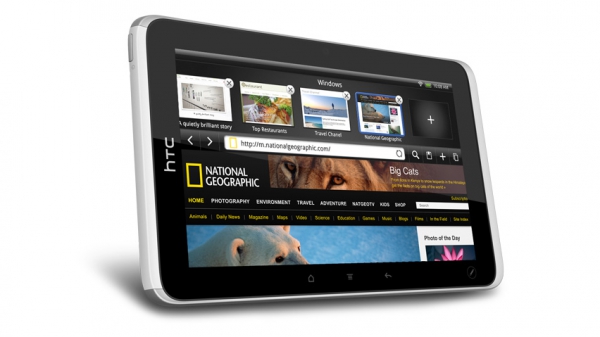 "Clearly, smartphones have transformed our lives but as we observed how people use smartphones, computers and other technologies, we saw an opportunity to create a tablet experience that is different, more personal and productive," said Peter Chou, CEO of HTC Corporation. "We are progressing down a path as an industry when people will no longer be in a single device paradigm, but have multiple wireless devices for different needs; this is the direction we are moving."
Encased in a sleek aluminum unibody, the HTC Flyer tablet exudes the iconic style and build quality HTC is known for. It is also ultra-light, weighing as little as a paperback book, and compact enough to fit in a jacket pocket only. With a seven-inch display, lightning fast 1.5Ghz processor and high-speed HSPA+ wireless capabilities, the HTC Flyer tablet is perfect for those who have been waiting for a tablet that is both compact and powerful.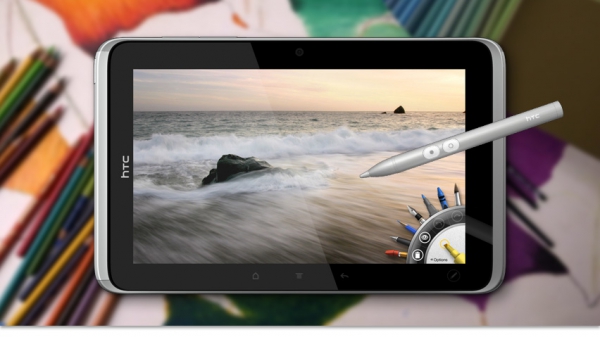 HTC Sense for Tablet
HTC Sense revolutionized smartphones by placing the person at the center of the experience. HTC Flyer's tablet-focused HTC Sense experience focuses on surprising and delighting people with its gorgeous 3D home screen. A unique carousel of widgets puts a user's most important content and information at the visual center of the experience. The HTC Flyer tablet also offers uncompromised Web browsing with Flash 10 and HTML 5.
HTC Scribe Technology
Touch interaction lights up the HTC Flyer tablet experience, but it also offers a groundbreaking pen experience. With the new HTC Scribe Technology on the HTC Flyer tablet, people can rediscover the natural act of writing. HTC Scribe Technology introduces a wave of integrated digital ink innovations that make it easy and natural to take notes, sign contracts, draw pictures, or even write on a web page or photo.
HTC Scribe Technology on the HTC Flyer tablet transforms traditional note-taking into smart note-taking by integrating natural onscreen writing with thoughtful and integrated innovations. A feature called Timemark enables you to capture the audio of a meeting in line with your written notes, so tapping on a word in your notes instantly takes you to that exact place in time in the audio recording of the meeting. Notes are also integrated with the calendar so when there is an appointment reminder you are automatically prompted with an opportunity to begin a new note or in the case of recurring meetings, to continue where the last meeting left off. In an industry first, the HTC Flyer tablet also features built-in synchronization with Evernote, the world-leading notes application and service.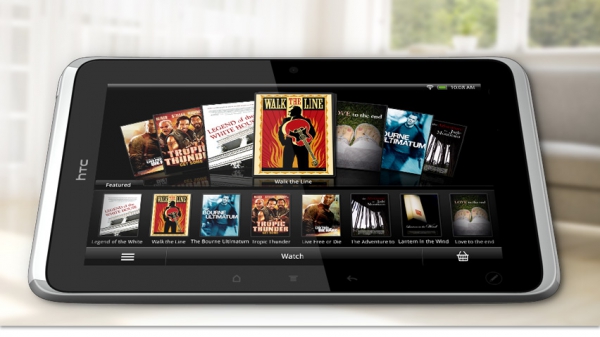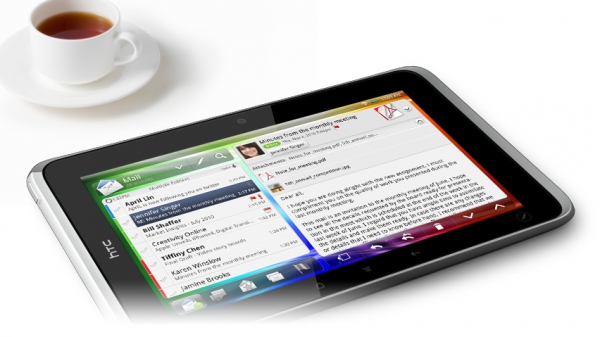 Streaming Mobile Movies with HTC Watch
The HTC Flyer tablet premieres HTC Watch, HTC's new video download service. The HTC Watch service enables low-cost on-demand progressive downloading of hundreds of High-Definition movies from major studios. The intuitive, natural design of the HTC Watch service makes it easy to find the latest movie and video content, while advanced technology on the back-end enables instant playback over the HTC Flyer tablet's high-speed wireless connection.
Mobile Cloud Gaming with OnLive
HTC takes mobile gaming to an entirely new level by being the first mobile device in the world to integrate OnLive Inc.'s revolutionary cloud-based gaming service. OnLive is leading in the home gaming market by letting people play top video games on their televisions and computers without the need to buy expensive gaming hardware or software. When integrated fully, the OnLive service will enable customers to pipe the OnLive service through the HTC Flyer tablet's broadband wireless to their television sets, or let them play directly on the tablet. When integrated on the HTC Flyer tablet, people can play a variety of games, including hits like Assassin's Creed BrotherhoodTM, NBA 2K11 and Lego Harry PotterTM.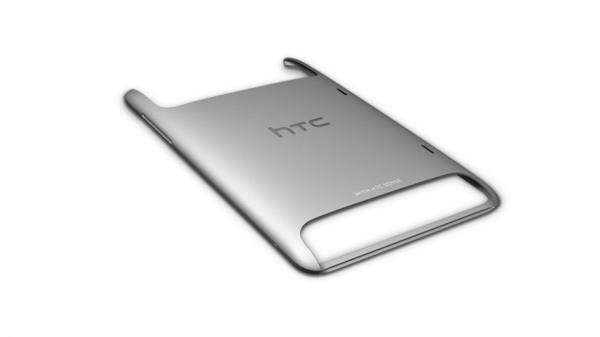 Availability
HTC Flyer will be available to customers globally during Q2 2011.
About HTC
HTC Corporation (HTC) is one of the fastest growing companies in the mobile phone industry. By putting people at the center of everything it does, HTC creates innovative smartphones that better serve the lives and needs of individuals. The company is listed on the Taiwan Stock Exchange under ticker 2498. For more information about HTC, please visit www.htc.com.