Did Intel's QuickSync Technology Kill CUDA/APP?
---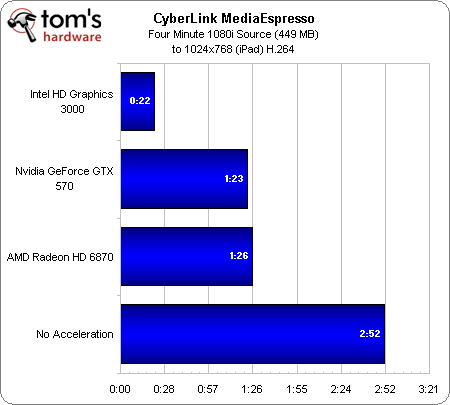 Take a look at that image above. It's from an article on Tom's Hardware that talks about how Intel's QuickSync technology - which is part of the Sandy Bridge platform - stacks up against GPU acceleration from NVIDIA's CUDA and AMD's APP (formerly Stream) technologies. The numbers above are simply shocking: GPU acceleration using CUDA or APP gives an almost 2x performance increase in HD video trascoding...yet, amazingly, Intel's QuickSync manages to get the same job done 5x faster than CUDA or APP. And let's be clear about something: it's able to do that with an integrated GPU that's part of the overall CPU, not with a beefy, power-sucking, loud graphics card that costs $300+.
I first heard about this at CES: I was meeting with a software development company who specialized in video editing applications and were well-known for utilizing every possible CPU/GPU trick in the book to get superior transcoding speeds. They told me that, based on their initial tests using Intel Sandy Bridge CPUs, there would be no need for CUDA or APP in the future for transcoding videos - the Intel technology was so dramatically superior that it was what they'd be focusing on moving forward. They wouldn't be dropping CUDA/APP support in their products, but if a customer was using their software on a Sandy Bridge-equipped system, their software wouldn't even touch the dedicated GPU.
This is stunning. This means that someone using a Sandy Bridge-based laptop could easily transcode HD video much faster than someone on a desktop PC with a similarly-clocked CPU and a monster video card. As someone who's been eagerly waiting for a laptop that can encode HD video with impunity, I'm thrilled by this - the Intel HD 3000 isn't going to replace a dedicated GPU from a gaming perspective, but when it comes to encoding HD video, it looks like CUDA and APP are seriously out-classed.