Learn to Switch to Mac Available at Steep Discount
---
"We've been hearing a lot about how many new Mac users there are. During the January first-quarter financial call, for example, we heard that not only were Mac sales up 23 percent over the same quarter a year earlier, but about half of the Macs sold in Apple Stores during that quarter were to people who had never owned a Mac before."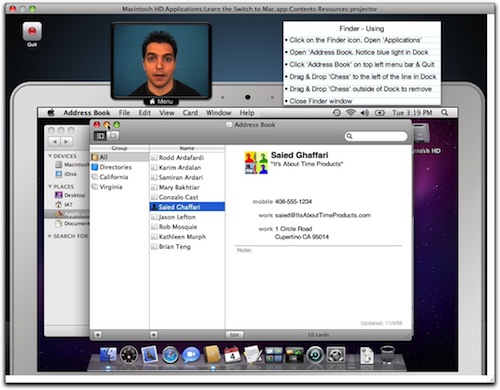 And what might help all of these switchers is this handy program called "Learn to Switch to Mac" available now [affiliate link] in the Mac App store for $0.99 USD, down from the normally priced $24.95 USD (if you were to purchase it separate from the $99.00 USD Parallels bundle). Basically it teaches you an action that you would do in Windows, how to do the same action in OS X, and then will let you try it, learn by doing if you will. If you have anyone that is switching, this is a heck of a deal for some good basic training on OS X.
__________________
iPhone 4, 1.6 GHz Core 2 Duo MacBook Air, Apple TV, 2.66GHz Intel C2D Mac Mini, 1TB TC, Airport Extreme,several iPods and an iPad, 32GB Wi-Fi version.
Follow me
on Twitter.