T-Mobile Galaxy Tab Price Drop: After Mail-in Rebate...
---
"With the Dell Streak 7 and LG G-Slate already headed Magenta's way, and the Galaxy Tab 2 already being teased by Samsung, T-Mobile has decided to give the current Galaxy Tab another price cut."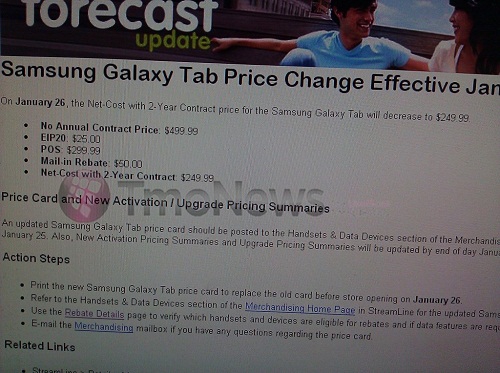 Well, I guess $50 is $50 even if it takes eight months to get it. Looks like as of today T-Mobile has drop the price of their Samsung Galaxy Tab by $50 bringing the total price down to $249.99 after mail-in rebate. If you don't mind that whole 2-year service agreement, that is a pretty good price for one of the best Android tablets currently on the market. Though, this price drop is most likely due to the fancy 4G tablets T-Mo has floating down the line. Is $50 enough to convince any of you who have been holding off on getting a Galaxy Tab or an Android tab in general to take the plunge?