Explosive 'Media Tablet' Growth Predicted for 2011 and 2012: Led by the iPad
---
"If it wasn't already obvious, Apple's iPad has led the way to explosive growth in the so-called "media tablet" business. The device almost exclusively led the way to a strong 2010 third quarter that grew by 45 percent compared to the second quarter, IDC said Tuesday with the release of its first report on the new tablet computer market."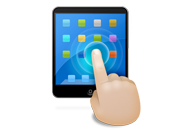 Some pretty astounding statistics and predictions here from IDC: tablet sales grew by 45 percent in Q3 2010, over the previous quarter. Pretty amazing. A whopping 87.4 percent of the tablets shipped in the aforementioned quarter were iPads. They estimate that about 17 million (media-focused) tablets shipped in 2010, and that 44.6 million will ship in 2011, with 70.8 million shipping in 2012. Much of this predicted growth will result from Android (and other OS) tablets arriving on the scene. IDC defines media tablets as ranging from 5-inches to 14-inches in size and running a lightweight OS, like iOS or Android.
In a sidenote, IDC also estimates that 10.8 million (standalone) e-readers shipped in 2010, with 14.7 million predicted for 2011, and 16.6 million predicted to ship in 2012. In the e-reader category, the Amazon Kindle leads the pack with about a 41.5 percent market share globally.
Lots of people running around with lots of tiny devices. I'm noticing more and more iPads in my frequent travels, but, as of yet, haven't really seen any Android (or other) tablets, and I have been looking.
__________________
"Not everything that can be counted counts, and not everything that counts can be counted." Albert Einstein