Samsung's 9 Series Notebook: Finally, Some REAL Competition to the Macbook Air
---
"If you're thinking about ditching Windows to get a MacBook Air, you might want to think twice. The Samsung 9 Series, which goes on sale next month, is sexy, slim, and oh so fast. Weighing in a 2.89 pounds and measuring just .64 inches thick (versus 2.9 pounds and .68 for Apple's 13-incher), the 9 Series is just as portable. But there's a lot more to this notebook."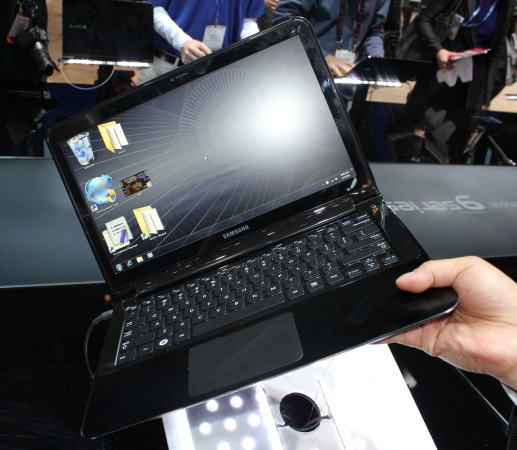 When I saw the Samsung 9 Series laptop, it was techno-lust at first sight. Wow, what hardware! This is exactly the kind of thing I've been waiting for someone to do: really try to go after the Macbook Air market with a drop-dead gorgeous design, superior materials, and hopefully a price tag that isn't out to lunch ($1599 for the 13" version is the only price tag mentioned). The units we saw at CES were prototypes, not final hardware, so Samsung was cagey about some of the specs and prices. We know it will come in two screen sizes: 11.6" and 13" (maybe 13.3"?). The 11.6" will come with a Core i3 or a Core i5, and the bigger 13" version will be a Core i5 and possibly a core i3. A 128 GB SSD will be standard on the 13" model, as will USB 3.0, and the screen technology - dubbed "SuperBright" - kicks out 400 nits and looked excellent in person. This is a laptop series I'll have my eye on! Laptop Magazine's video after the break, along with some of my own photos.
Above: This is one nice looking laptop, but the finish seems incredibly smudge-prone.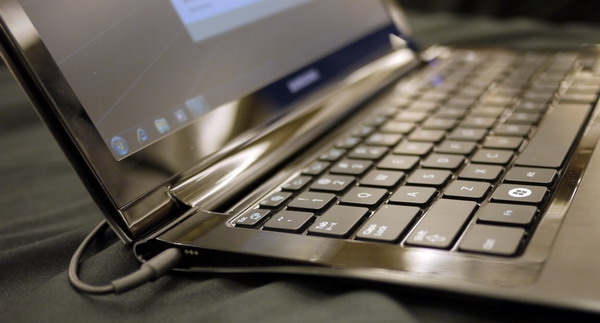 Above: The chassis has an interesting curve to it.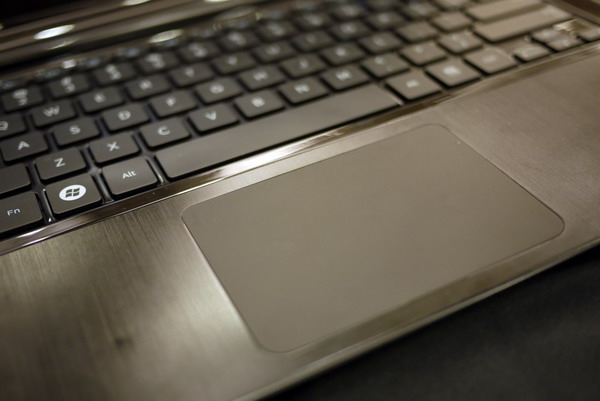 Above: A very large touchpad.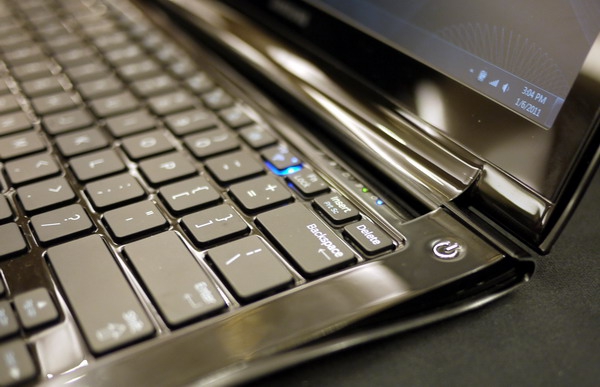 Above: The top row of function buttons are very small, and there's a dedicated power button.
Above: The first time I've seen a microSD card slot on a laptop. I'd have preferred an SD card slot. microSD cards are still a bit on the slow side, so shooting with one in an SD card adaptor in a digital camera probably wouldn't give you a great experience.