Surf The Galaxy Tab at LTE Speed!
---
"With the Galaxy Tab only being on carrier's shelves for a couple of months now, not too many expected the device to be iterated. But it looks like Verizon is getting the "most powerful" of all the Galaxy Tabs with an upgraded LTE version."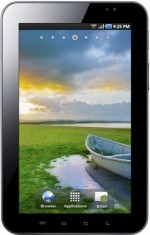 I keep hearing news about dual-core ARM processors. The RIM Playbook is supposed to feature one. The same with the iPad2. It comes as no surprise then that the single-core models would try and make the most out of what they have. A 20% faster clock speed is not too shabby. For a lot of the current apps out there though, I have to wonder just how much of a difference that makes. Web browsing is sure to be faster, but will Angry Birds be any more phenomenal with 2 more fps? Will Voice Search be more compelling if it is .2 seconds faster in recognizing your voice? Can you think of a reason the Galaxy Tab benefits from being just a bit faster?