Windows Phone 7 Marketplace Hits 5000 Apps!
---
Once again, another week another milestone. Today, the Marketplace hit the big ol' 5,000 for available apps. What's funny about this number is on December 25th, WebOS also hit 5,000 official apps (unofficially, it's over 6,000). As we mentioned last time, WebOS has been out for 18+ months, whereas Windows Phone, just two.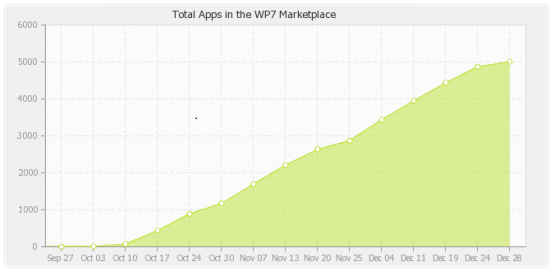 Windows Phone 7 has hit the 5000 app mark since it's release just two months ago. This is a fantastic sign of the support and attention being given to the platform by developers. Microsoft has been working diligently to ensure the developers and companies would create new apps as well as convert their apps from other platforms. They have created the tools, they have paid some developers for their support, and most importantly they have created an interesting new OS that has many users very happy and craving for quality apps. That being said, there are still obvious holes in the marketplace. Which app are you still waiting for?