Microsoft: The Tablet Bridesmaid, Never the Bride?
---
"A decade ago Bill Gates, founder and former chief executive of Microsoft, presented a new class of computing to the world: a tablet PC that offered a fully functional computer with the "intuitive aspects of pencil and paper." Since then, Microsoft has struggled to gain traction with a slate-like device, yet each year the company announces new products, software or operating systems that try to promote a world of Windows-based slate computers."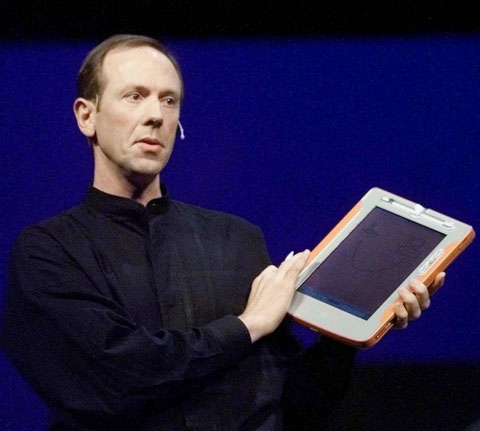 Above: Bert Keely, a Microsoft software architect, shows a prototype of the first 'Tablet PC' in 2000. Photo courtesy of the New York Times.
I'm trying not to unfairly jump to any conclusions yet, but here's what I predict I'll see at CES 2011: tablet/slate computers running Windows 7 that are heavier, slower, more expensive, and have significantly worse battery life than comparable iOS and Android slates. And that doesn't even factor in the user interface issues. Windows 7 is quite usable on a touch input basis...on a 20+ inch screen. On a 7 to 10 inch screen? Not so much. I'd love to be wrong, but I'll go out on a limb and say that Microsoft hasn't yet admitted to themselves that Windows is not the most appropriate operating system for lightweight slate devices.