Tegatech Tega v2 10.1-inch Tablet Running Windows/Android
---
"We haven't seen many -- okay, any -- Windows 7 slates from major manufactures (i.e. HP, Lenovo, ASUS) like Steve Ballmer promised back in July, but one thing is for certain, smaller companies aren't just sitting around waiting for the other shoe, er slates to drop. We've already gotten our hands on products from the likes of CTL and Netbook Navigator, but Australian-based Tegatech also wants a piece of the large touchscreen pie with its 10.1-inch Tega v2."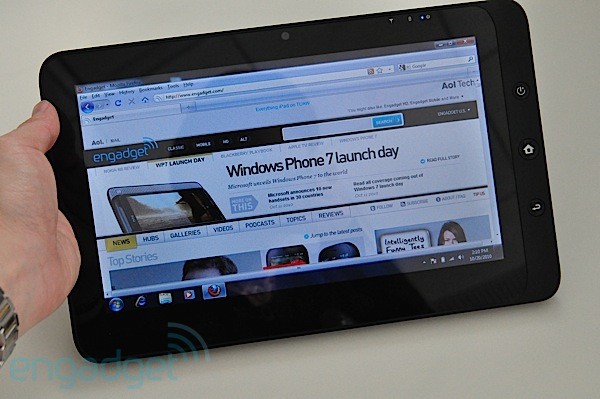 As the reviewer mentions, this tablet is "pretty much a netbook that has lost its keyboard." Decent specs: an Intel Atom N455 processor, 2GB of RAM, a 32GB SSD that boots Windows 7 Home Premium, 0.5-inch / 1.9-pounds. And it boots alternatively into Android, but unfortunately V1.6. The aluminum back makes the Tega feel a bit like an iPad, except for the cheesy plastic buttons. Viewsonic's ViewPad happens to be using the same chassis. The 10.1-inch capacitive touchscreen works well, and is a fingerprint magnet. The consensus here is that Windows 7 just isn't a tablet OS (yet). Even with the Thinix Touch extensions, it doesn't quite hit the mark.
Quirks abound on the tablet, especially irritating is (according to the review) accidently turning WiFi off and on by using the back button on the tablet. I'm really looking forward to Windows tablets, but they don't appear to be there quite yet.
__________________
"Not everything that can be counted counts, and not everything that counts can be counted." Albert Einstein