Motorola Versus Apple
---
"Today, Motorola filed suit regarding three complaints against Apple over patent infringements. The complaints deal with antenna design and other associated smartphone technologies covered in 18 patents held by Motorola. According to Kirk Daily (via CNNMoney), Motorola Mobility's corporate VP of intellecual property, legal action was a last resort taken after licensing negotiations with Apple broke down."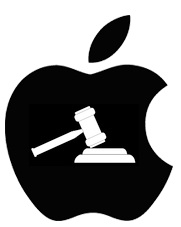 This after losing a patent battle that has the potential to cost Apple $625 million USD in legal fines as well as the suit and counter-suit fight with Nokia. So it hasn't been the best week from a legal standpoint but they should be used to it, the being sued part not the losing. At least they aren't alone in the courtroom, as Microsoft is now suing Motorola. They fight hard in the smartphone world don't they?
__________________
iPhone 4, 1.6 GHz Core 2 Duo MacBook Air, Apple TV, 2.66GHz Intel C2D Mac Mini, 1TB TC, Airport Extreme,several iPods and an iPad, 32GB Wi-Fi version.
Follow me
on Twitter.