Sony NEX-3 and NEX-5 Reviewed by Digital Photography Review
---
"The waiting is now over as, following the showing of some mock-ups at PMA and a torrent of teasers and leaks, Sony finally officially announced its NEX system last month. The details are exactly what you'd expect - HD video capable APS-C sensors in small bodies. What might take you by surprise is just how small the bodies are - the NEX-5 in particular being tiny. In fact the cameras are too small to include in-body image stabilization units, as found in Sony's SLRs, and instead use lens-based 'Optical SteadyShot'. These NEX cameras will come under the Alpha brand but do not make use of the Alpha lens mount, instead using the completely new all-electronic E-mount."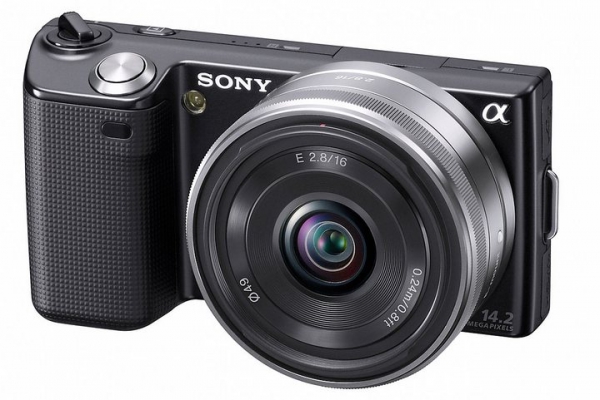 dpreview must've had the review for the NEX cameras on full tilt because it didn't seem so long ago that the NEX cameras were announced. As expected, the latest generation of Sony APS-C sensors do well, but are let down by a control system that is geared towards point-and-shoot users.
As I said before in my post in reaction to the NEX announcement, "For the enthusiast, proprietary connector, lack of viewfinder, and modal buttons are just bad bad bad." As expected, a lack of controls, together with a modal control system and menu-driven UI, just means the camera is not one for those who want to fiddle with the camera settings, or have a greater interest in the technical aspects of photography. Less buttons aren't necessary better.
I'm also not a fan of its styling - all the lengths gone to keep the body size down is negated with the larger lenses the APS-C sensor will require. Indeed, the E mount is actually taller than the cameras, hence the protrusions at the top and the bottom (very noticeable on the smaller NEX-5).
I'm sure Sony will sell plenty of NEX units, but I suspect they will go mostly to well-heeled style-conscious point-and-shoot upgraders rather than the enthusiast crowd. Given that the mainstream crowd is always bigger, will this mean Sony might have a hit on their hands regardless of the lukewarm rating given?
__________________
Baka. Soku. Zan. - The justice behind the dysORDer.