Zune vs. iPod - In Pictures!
---
"I got face time with a Zune this weekend and decided to look at how the form factor compares to the 80GB iPod I picked up a few days ago. The Zune weighs considerably less than the iPod, although I didn't have a scale on hand to get exact comparison. It felt like the Zune was more comparable to my Cingular 2125 phone, while the iPod weighs quite a bit more."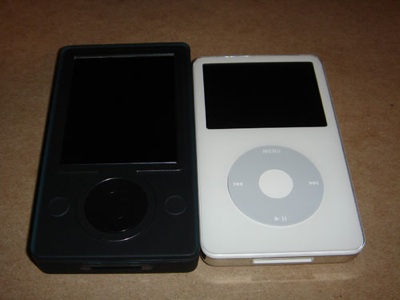 Side-by-side with the iPod, the Zune does look larger in height and thickness. However, according to Jake Ludington, the Zune feels lighter, which is a real bonus. Jake's final pictures show the black Zune and the blue trim in all its glory (I'm really digging this colour scheme), with large album art and a neat UI (something I'm also digging). Check it out!