Apple to Be a Mobile Gaming Powerhouse
---
"For the last few days I've been sampling some of the games available from the iTunes Store on the iPod Touch, and I've been stunned at how elaborate and involved they are. On the iPod Touch I've played a version of Gameloft's Real Soccer 2009 that rivals the version of the game on the Nintendo DS, and I didn't even miss the buttons. I've seen demonstrations of Sim City, forthcoming for the iPhone and the Touch from Electronic Arts, that look more elaborate and sophisticated than any versions I've played before on a desktop PC or console. They're immersive, addictive fun. And it's now readily apparent to me that the iPhone and iPod Touch are well on their way to becoming an important force in handheld gaming. When you consider the ease and reach of Apple's online method for distributing games, Apple could do in this category what it did in online music, causing big headaches for the genre's established players, Sony and Nintendo."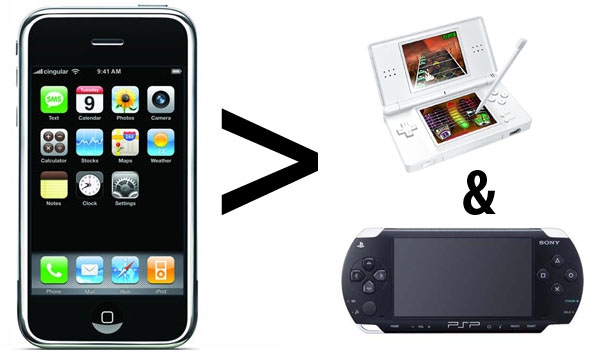 I can't count how many times I've heard this sentiment, and I can't how many times I've laughed at it. Honestly, as much as I love Apple and most of what they kick out, the idea that they're going to suddenly start dominating the gaming market is ludicrous to me. While the author does have a point in how good some of the games are, he gets off track by talking about how many of them there are. Yes there are way more games, but there's also way more kruft to get through to find the good ones. The other problem is that contrary to what Steve Jobs and his staff are selling, the touch screen and accelerometer are just crappy ways to control a game. Super Monkeyball and Cro-Mag Rally are two good games that are seriously hampered by the accelerometer control scheme. I don't mind the iPhone / Touch for casual games and puzzle games, but give me my DS for more advanced games and action games any time. Of course, this isn't the "Vincent Rants" show, so now it's your turn. What do you think of the overall quality of Apple's gaming offerings for the Touch / iPhone, and do you think that Apple is in any danger of becoming the handheld gaming platform of choice for most people?
__________________
Current Apple Stuff: 24" iMac, iPhone 4, AppleTV (original), 4gb Shuffle, 64gb iPad 2.