Gigabyte gives its Ultrabooks a Graphical Boost
---
"Ultrabooks with Intel's 3rd Generation Core Series processors may be good enough for productivity tasks, but we wouldn't recommend playing Batman: Arkham City on them. Fortunately, you don't have to choose between a thin-lightweight notebook and one with strong graphics performance. While it's not marketed as a gaming rig, the new Gigabyte u2442 14-inch Ultrabook comes with an optional Nvidia GT640M graphics chip, but weighs a reasonable 3.46 pounds while measuring just .7 inches thick. "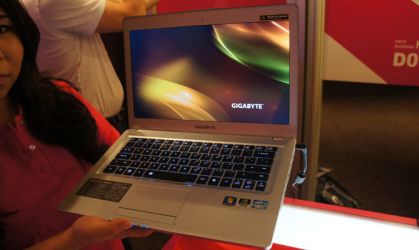 When netbooks came out, they were an interesting proposition. They were lightweight, mostly had a reasonable battery life and just enough computing power to get your day to day tasks done. Those days are over, with the rise of Ultrabooks. Thin and light, just like a netbook and with a good chunk of juice to last the day. However, while ultrabooks come with a little more horsepower than your standard netbook, they still lacked any graphical strength. Integrated graphics are much better than days of yore, but they still fall short when playing any of the more demanding modern games.
It is really a relief to see some manufacturers take notice, and offer ultrabooks with discrete graphics. If only they can emphasize this benefit more. Most people I have met show more interest in the speed of the CPU and the price tag. Hopefully they will realize that a happy laptop experience means taking more into account.