Flygrip Will Ease Your One Handed Fears
---
"So you're walking with your iPhone in one hand, and a Starbucks latte in the other, and granted it is possible to use the iPhone in one hand, it could prove to be "fatal" since one hand tends to offer less support compared to two, and we all know that heart wrenching feeling when your brand new gadget slips out of your hand and onto the hard pavement."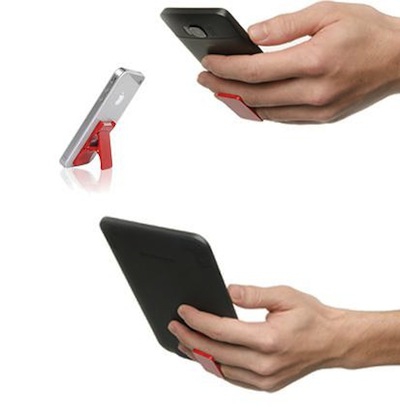 Basically very simple, as all this does is attach to the iPhone case or the iPhone itself and you slide your fingers in and can start using your iPhone one handed without fear of dropping it. I can also be attached to the back of your iPad, or any other tablet for that matter. As you can see from the photos, it doesn't have to be an Apple product to work. Three sizes (small, medium and large) depending on the finger size and you can get them for $29.95 USD each from the Flygrip store located here. That seems a bit spendy to me, and I think I would rather just spend that on a better case. What are your thoughts?
__________________
iPhone 4, 1.6 GHz Core 2 Duo MacBook Air, Apple TV, 2.66GHz Intel C2D Mac Mini, 1TB TC, Airport Extreme,several iPods and an iPad, 32GB Wi-Fi version.
Follow me
on Twitter.