Docking Station Options for Your MacBook Air
---
" I've been looking for a docking station for my 11-inch MacBook Air ever since I picked it up a few months back. Not only has there not been anything that has caught my eye, but there haven't been many available to even look at."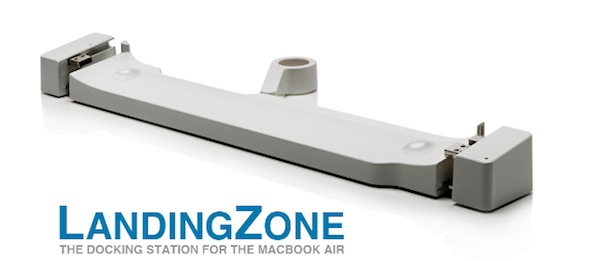 That is until he saw this little gem. What really sets this one apart from other docking stations, such as the Henge Dock, or even the Twelve South BookArc is that you can actually secure your MacBook Air with this one. In fact, until I saw this article about the Landing Zone, I was all set to buy a Henge Dock, but am now rethinking my choice. The advantage of the Henge Dock is the ease of use and minimal footprint. Slide in your MBA and you are ready to go, and since it sits vertical instead of flat on a desk, it has the minimalist in me wanting it. However, if I was in a situation where my work space was public or semi-public, I'm thinking I would go for the Landing Zone for the security aspect. Price being another consideration, Henge Dock certainly wins here since the Landing Zone, when it is in production (it's a Kickstarter project), will be roughly $200.00 USD while the Henge Dock will be available in February 2012 and retails for between $55.00 and $80.00, depending on the size you purchase. What are your thoughts on docking your MacBook Air, or do you prefer just using the regular cable hookups? For those of you with MacBook Pros you might be interested in this one.
__________________
iPhone 4, 1.6 GHz Core 2 Duo MacBook Air, Apple TV, 2.66GHz Intel C2D Mac Mini, 1TB TC, Airport Extreme,several iPods and an iPad, 32GB Wi-Fi version.
Follow me
on Twitter.