Cellular South Offering HTC 7 Pro
---
"Cellular South, the largest privately held wireless communications provider in the U.S., introduced the HTC 7 Pro smartphone today offering customers its first Windows Phone 7-powered glance-and-go experience combined with an innovative design that features a sliding full QWERTY keyboard and tilt-up display."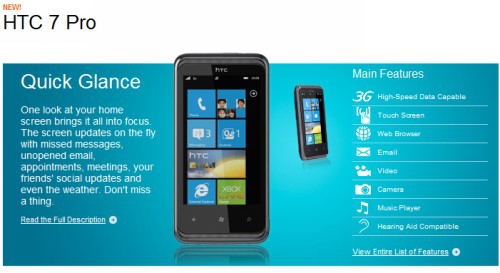 And here I thought there were only a handful of national level carriers in the United States (hey, I don't live there!). Cellular South is a regional carrier based in the South East with about 900,000 customers, and they've just released their first smartphone based on WP7, the HTC 7 Pro. Not a bad start, though I'd quibble at the $199 price tag. But then to be fair I don't think they have the deep pockets to subsidise their phone offerings too deeply, especially expensive smartphone models. You can access CellSouth's 7 Pro page here.
__________________
"A planner is a gentle man, with neither sword nor pistol.
He walks along most daintily, because his balls are crystal."