Zune HD Apps Now Available to Canadians...Or Not?
---
The news came out a few days ago that the Zune HD apps were going to be available to Canadians - this has been something that has irked me for a while, because the process has worked like this for me in order to get apps: signing out of my Canadian Live ID, exiting the Zune software, changing the Windows 7 region to USA, starting up the Zune software, signing in with my USA Live ID, grabbing the apps, then reversing the above procedure before I can get back to it tracking my music.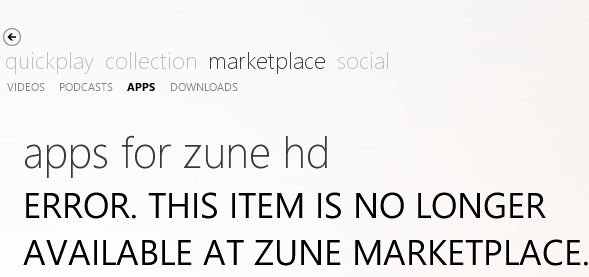 It put a smile on my face when I heard this news, but that smile turned upside down when I tried to access it and got the above error. This is the same error I've been seeing since getting the Zune HD back in 2009. I exited the app...same problem. I logged out and logged back in with my Live ID...same problem.
I tried to get confirmation from someone on the Zune team over Twitter yesterday that this feature was actually in place and working, but haven't heard back yet...so I'm not sure if this is a unique bug on my end, or this is a case of an announced feature that hasn't been turned on yet. Any other Canadian Zune HD owners gotten this to work yet?