More Evidence WP7 is Coming To Verizon
---
"Looks like Microsoft took Big Red's challenge and decided to respond in kind, as the official Windows Phone Twitter feed claims that Windows Phone 7 devices are finally headed to Verizon. They'll allegedly arrive this holiday season, a good bit earlier than we were told, but we doubt you're exactly dismayed to get your hands on CDMA WP7 phones ahead of schedule."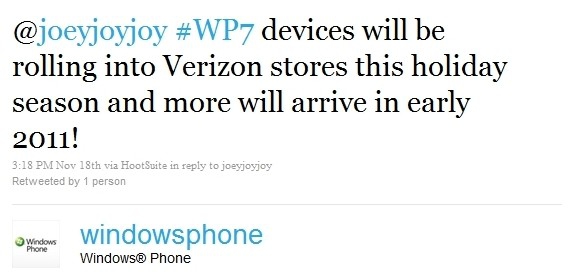 I'm still wouldn't call this confirmed until Verizon actually make an official announcement , but with a CDMA handset ready in the wings, there's a fair chance that WP7 get a bite of more than the GSM market, and soon. Note that the tweet above has been followed up with a less committed one on the timing, but it seems just a matter of time until Verizon customers can get their hands on a WP7 phone.
__________________
"A planner is a gentle man, with neither sword nor pistol.
He walks along most daintily, because his balls are crystal."