Zune Pass Heading Across the Pond?
---
"Thanks to tipster Greg, who has managed to sign up for a trial subscription to Zune Pass in the UK (although it doesn't work yet), it looks like the "all you can eat" service may be coming soon to the UK. Along with the Trial Pass option, it looks like Zune Pass in the UK will cost £8.99/mo, with a 3 mo. subscription costing £26.97/mo."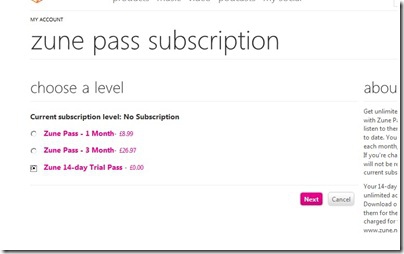 An intrepid reader of LiveSide discovered a tantalizing yet inevitable detail on the UK Zune Pass website; It looks like Zune Pass will be coming to the UK sooner than we thought. This is an important first step for laying the groundwork of an actual strategy for WinPhone7 in the UK and overseas, and hopefully we'll begin to see more progress in the coming months. It's important to note that while the site allowed the tipster to register for a free trial, he wasn't able to log in and download music just yet. Though commenter Greg brought up Rafael Rivera's Zune Features Unlocker script to re-enable Marketplace, Channels, and Apps within the Zune software, which may have helped.