Live in Canada? Enter the Rescue a Dell Mini Contest!
---
"There are 21 compact, go-anywhere Mini 10v red laptops that need rescuing and if you help, you could take one home! Here's how: The contest begins December 18, 2009 at 12:00pm EST and one winner will be randomly selected almost every weekday starting December 21, 2009 after 5pm EST. Visit the Rescue a Mini tab on Dell's Facebook page www.facebook.com/DellCanada.... Didn't win on Facebook? Don't fret! There's a bonus 22nd Mini 10v that needs rescuing on Twitter! To enter, follow Dell on Twitter www.twitter.com/DellHomeSalesCA and @reply Dell @DellHomeSalesCA with the hashtag (#RESCUEAMINI) and tell us why you could #RescueAMini. The @reply winner will be chosen by a panel of Dell judges. Contest closes January 21, 2010 at 5:00pm EST. Visit Rescue a Mini www.dell.ca/rescueamini for a complete list of rules and regulations."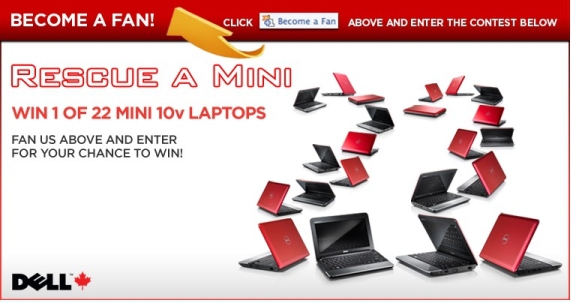 Here's one for all of our Canadian readers! Fortunately, we own a Dell Mini 10v, or else this announcement might have found itself accidentally misplaced out of jealousy. The 10v may not be the technology leader among netbooks, but we have been quite impressed with ours thus far - and "free" covers a lot of faults. If you need more incentive, and a few minutes of entertainment, you can view the video Dell created for this contest at www.youtube.com/rescueamini.