<table> <tbody><tr> <td>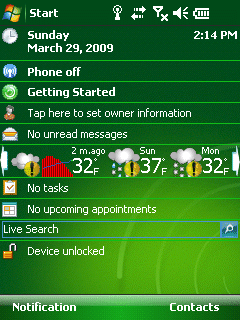 </td> <td> Elecont Software released new Elecont Wether. New version got many improvements regarding the usability. Now you can scroll 10 day weather forecast on the Today screen by touch. Download it now at
http://www.elecont.com/weather-for-pocket-pc.aspx
and get 30% off on your purchase.
Elecont Weather is worldwide 10 day weather forecast for Pocket PC and Smartphone. Weather forecast is displayed on Home/Today screen with animated icon sets. It is a complete weather station in your pocket.
Elecont Weather reports 10 day forecast with extended weather descriptions, current conditions with "feels" like temperature, hour-by-hour forecast and weather alerts (US only) and much more useful weather info. The data is provided by trusted weather provider WSI Corp.
With Elecont Weather you will always be kept informed about the weather forecast as well as about the event of a severe thunderstorm, tornado, blizzard, hurricane, or other natural disasters.
</td> </tr> </tbody></table>