Contributing Editor
Join Date: Jun 2010
Posts: 118

Smartphones – Is It The Total Experience That Makes The Difference?
---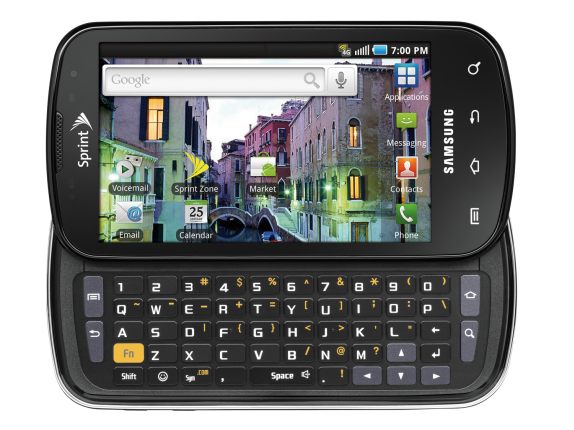 I regularly get asked by friends and colleagues for technology advice, and smartphones are a frequent topic. A recent conversation with a colleague got me thinking about how the smartphone marketplace was evolving, and how people might be making purchasing decisions over the next year or so. Purchasing behaviour is of course a complex topic, one that requires unique analysis expertise within the personnel of any product vendor. I'm not a marketing guru by any stretch, but, like you, I do have some opinions on the factors that influence people one way or another in the smartphone world.
We are strongly influenced by marketing, and most product manufacturers spare no expense on this endeavour. But marketing really only gets you interested in a particular product and starts you on the path towards purchase. Typically you still need to hold and try the device, evaluate its capability in your personal use paradigm, and consider its overall cost. In short, there is a sales-related experience, and, after purchase, an ongoing "use experience" that influence your overall satisfaction with the phone and your likelihood to commit to the platform.
Let's consider the overall marketplace. There are many base platforms, and lots (really tons) of phone choices on each one. There is a clear trend to blurring of the feature phone/smartphone marketplaces, and differentiating products on this basis is getting more and more complex. With all this choice, how does a consumer make their ultimate product purchase?
I postulate that the final buying decision, for most consumers, is based on their total experience. Let's consider a fictitious new measure, Total eXperience Index (TXI). What parameters would be included?
Influence due to marketing, peer influence, and overall trends
Aesthetic appearance and feel (uniqueness, screen size and clarity, product build quality, keyboard functionality, ...)
Core Functionality (messaging, voice, browsing, media playing, ...)
Robustness (call quality, ease of navigation, ...)
Utility (ability to meet current needs, and to extend base functionality to meet potential needs, connect to others, ...)
Battery Life (or frequency with which you have to re-charge your phone, ...)
Availability of Help/Support (from the manufacturer or others)
Cost
In my estimation, in the TXI there is not a single parameter which will clearly differentiate one smartphone over the others. In addition, the scale will vary depending on an individual person's smartphone use paradigm. It is the intertwining of the parameters in the context of an individual's use paradigm that will tip the scales in favour of one product over the other and seal a decision to purchase. Consider the Core Functionality parameter. I believe that for most smartphones this is a pretty much a dead heat. There are definitely different ways of implementing these core functions, but, by and large, they accomplish similar things, and virtually all platforms can do them and do them well. Consider, however, how Core Functionality can mix and match with Utility to create a greater experience. Combine GPS capability with Core Functionality's image browsing capability and we have an enhanced experience. How seamless and effortless it is to access and use this enhanced experience is also a factor.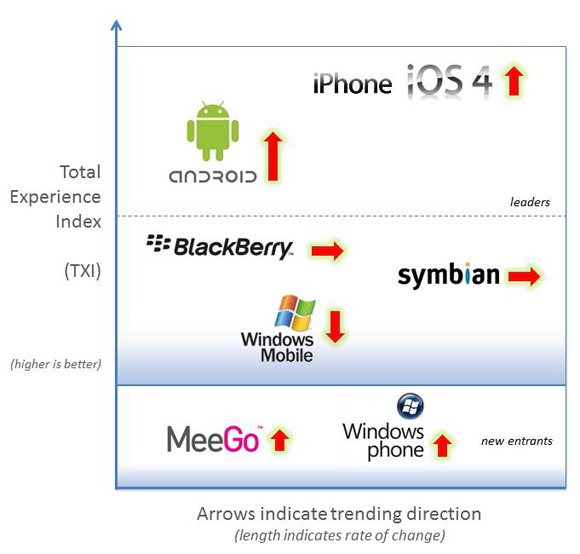 So, if you're with me, and can accept that there might be something to this TXI notion, then let's consider this first on a platform basis (in a second column I will explore this on a particular handset basis). Here's how I see the various platforms currently situated with respect to overall market positioning, and trending, amongst consumers (as I see them) with a generalized use paradigm, on a TXI scale:
Apple iPhone - the highest TXI value and rising, although rising slower than a year ago
Android - the second highest TXI value, and rising the most quickly
RIM BlackBerry - middle ground TXI value, and moving horizontally
Symbian - middle ground TXI value, and moving downward
Windows Mobile - bottom half, and moving downward
Windows Phone 7 - just entering the chart, and starting to move up
MeeGo - just entering the chart, and starting to move up
We all know that a tremendous number of people are purchasing iPhones. Lots more are purchasing Android devices. Why are they purchasing phones from these platforms? It can't be because phones based on these platforms have the most features, since that honor would probably have to go to smartphones based on the Windows Mobile platform (the current platform, not the forthcoming Windows Phone 7 platform). So, if it's not the total number of features, then why do you talk to so many people that purchase these particular phones and then comment that they absolutely love the smartphone platform they are using? I think it's because of the positioning of the product in that person's TXI
Apple, and its iPhone platform, are a very interesting study in the TXI. In my opinion they have really mastered the intertwining of the parameters in ways that others have not been able to yet. How many people do you know that revel in their use of their iPhone (or other Apple products, for that matter). There is something about their experience that "delights" them in profound ways. It's not one factor, it's the total experience. "Seamless", "of high aesthetic appeal", "intuitive", are all words that flow from people that use these products. This has not happened by chance, it has been designed that way, and is supported by strong marketing with key messaging.
So, where does this leave Windows Phone 7? As can been seen in my placement of Windows Phone 7 on my fictitious TXI scale, it's really too early to draw a lot of conclusions. That being said, my impression based on my readings of the experiences people have had so far with the platform, is that it has very good TXI potential. There are many reports, some anecdotal, from those people that have used one that suggest they are delighted by the intertwining of TXI parameters that Microsoft and the handset manufacturers have been able to achieve. In particular, the overall aesthetic appearance and feel, and the core functionality parameters seem to show promise. But as we have seen, TXI is complicated, and whether Microsoft and their partner's work in the other areas will be sufficient for the platform to climb the index and challenge Apple iPhone and Android is not a given. Only time will tell, and recently internal turmoil inside Microsoft suggests not everyone is pulling in the same direction to make this happen.